If you're a first-time visitor to Destin, this 5-day Trip Planner will help give you an overall experience of the area. We've included beach time, shopping, excursions, and relaxation. Of course, these are only suggestions. Feel free to mix and match. 
If you plan on arriving by air travel, please check our "best airport" guide to find the airport that best fits your travel needs.
Day One - Arrive in Destin
4:00 PM Check-in (Since most vacation rentals require a seven-night minimum during the summer months, you will most likely need to book a hotel for this trip). Read our blog on how to choose where to stay.

Visit the Boardwalk (Destin or Okaloosa Island)
Destin Marina and Boardwalk
102 Harbor Blvd, Destin, FL 32541
There are plenty of casual dining options as well as the opportunity to get fresh seafood at Harry T's Lighthouse
Ft. Walton Beach/Okaloosa Island
1450 Miracle Strip Pkwy SE, Fort Walton Beach, FL 32548
You will have plenty of choices for casual dining, drinks, and fresh seafood.

Dinner
Dinner tonight should be something casual. Many times, flights are delayed and expected arrival times for dinner and shows can be missed. Do yourself a favor and take the flex route tonight. By the way, read our "what to bring" post. A suitcase full of patience is on the list.
Rest up for the next day's activities
Breakfast
Crackings is open for breakfast and lunch. The Tiramisu French Toast is a must-try.
Excursion
Take a Fishing or Sailing private charter. Local captains know all of the best places to fish and enjoy the Gulf of Mexico or Crab Island. There are many different lengths of charters. You may find it more convenient to pack a lunch and enjoy the water a bit longer.
Lunch
If you can manage your schedule so that you're having lunch on dry land, try The Gulf on Okaloosa Island or McGuire's Pub in Destin. Both are casual and close to all the water activities.
Excursion
Dolphins are one of Destin's favorite residents. You can see them at a local aquarium or visit them in their natural habitat. Learn more>
Dinner
Destin's most awarded restaurant is Marina Cafe'. Delicious seafood, waterside dining, and a great atmosphere. Reservations are recommended. See Marina Cafe's Menu
Breakfast
Another Broken Egg is located in Destin Commons Shopping Center.
Another favorite is Crackings serving both breakfast and lunch. Both are excellent.

Lunch
Take in some Florida sun at the beach.

Dinner
One of Destin's favorite restaurants is The Back Porch. Great beachfront dining, seafood, and family-friendly. See Destin's top 10 restaurants. (During the high season, expect wait times to be 60 minutes or more)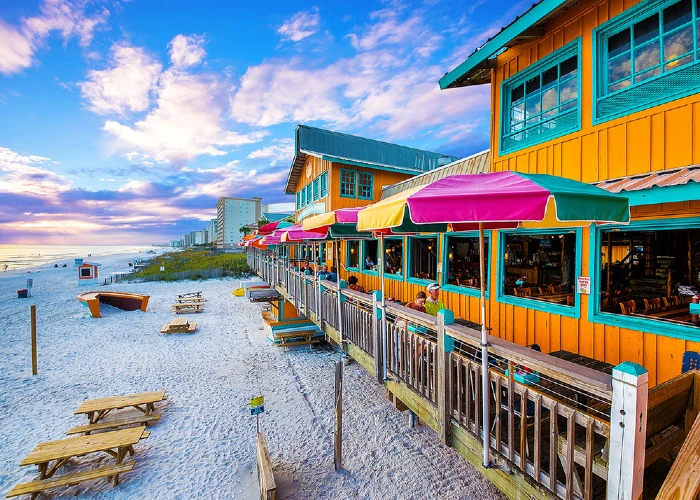 Breakfast
Many of the tours depart early for Crab Island. You may want to grab a quick breakfast and head to the departure location for your tour. The tour companies don't wait. If you're late, you will not receive a refund.
Excursion
Crab Island is one of the most photographed and Iconic attractions in Destin. You can rent a pontoon, jet ski, or other watercraft to get there.
Half-day and all-day tours are available here.
Lunch
Pick up a sandwich or other picnic lunch and head to the beach
Excursion


Dinner
The Village of Baytowne Wharf is located in the Sandestin Resort and is open to the public.
There are several options here for dining including, waterfront, live music, drinks, and seafood.
During the high season, you can expect a wait of 30-60 minutes.
Breakfast
For something a little special, try the Pancakery. They are open for breakfast and lunch
Checkout– Most Destin hotels and vacation rentals have a check-out time of 10:00 AM
Depart
Saying goodbye is never easy. Download our comprehensive Travel Guide and start planning your trip to return.