Whether you're seeking a luxurious beachfront resort or a cozy vacation rental tucked away in a quiet neighborhood, Destin has accommodations to suit every traveler's preferences. 
Most beachfront accommodations in Destin are vacation rentals. There are very few hotels with direct beach access. If you are specifically looking for a hotel on the beach, you will have more options on nearby Okaloosa Island.
No matter where you choose to stay, you'll find yourself surrounded by an abundance of activities and attractions. From fishing charters and water sports to shopping, dining, and entertainment, Destin has it all.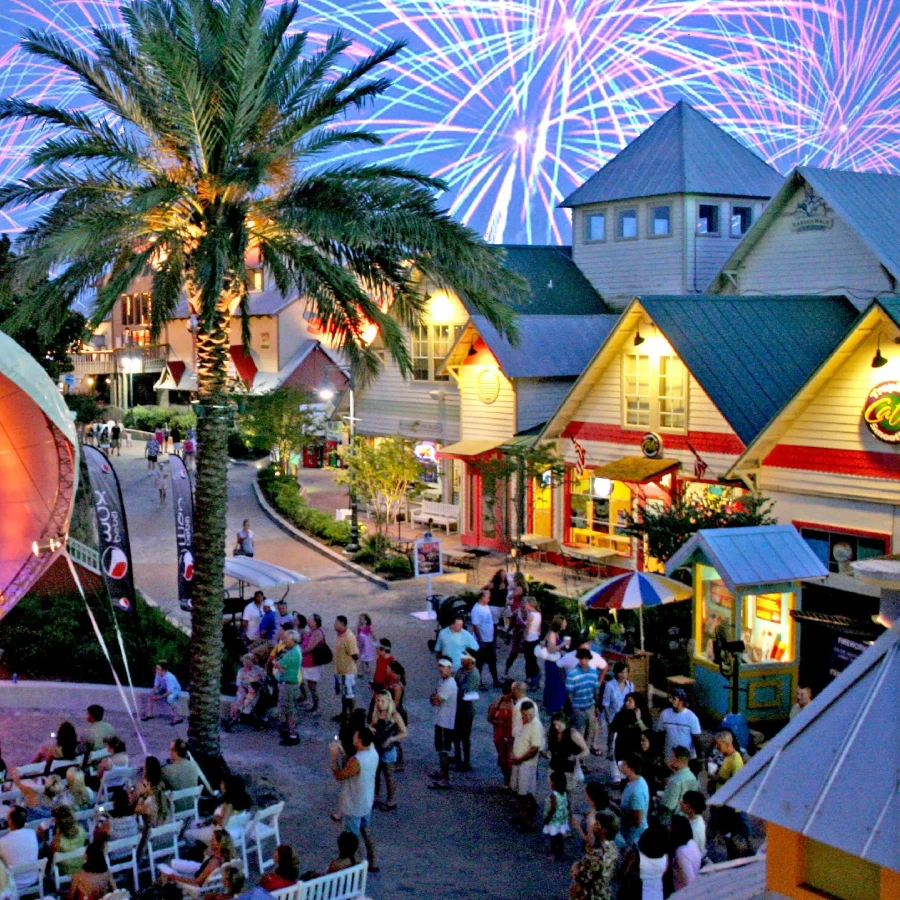 For the most part, you will need a car in Destin. Except for a few restaurants, most everything typically requires a short to medium drive to get to. Unless you plan to spend most of the time at your resort, or you enjoy an enormous amount of walking, you will need transportation. See rental agencies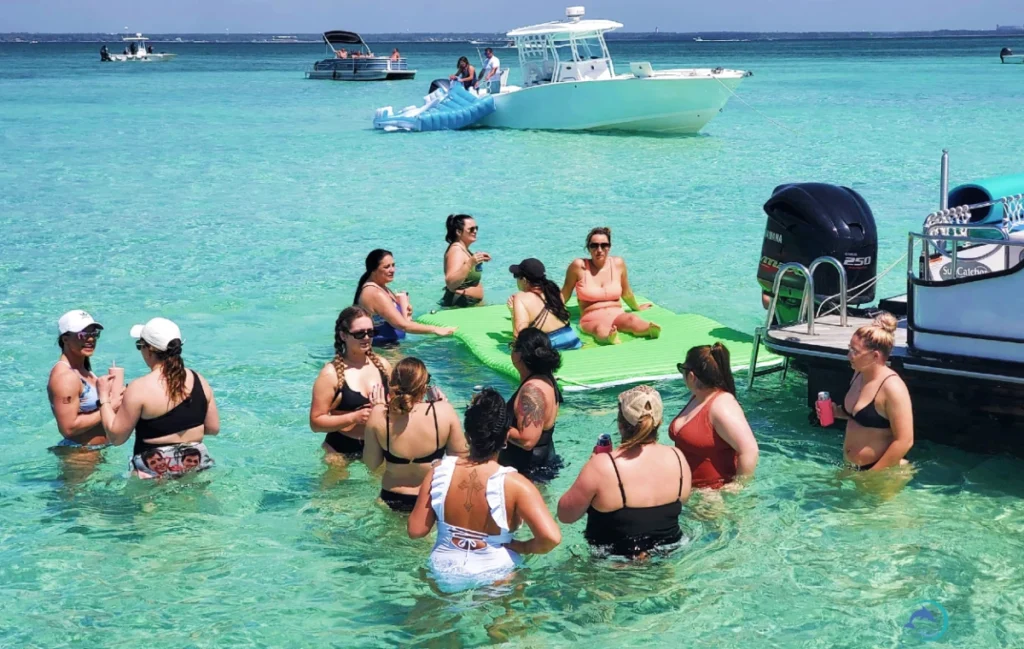 Destin Harbor & Crab Island
The Destin Harbor is the departure area for many Crab Island tours and watercraft rentals for the Gulf of Mexico and Choctawhatchee Bay. The Emerald Grande is the largest resort in this area. The resort offers breathtaking views of the Harbor, the Destin boardwalk, and the Gulf of Mexico. 
HarborWalk Village is a hub for shopping, restaurants, and year-round entertainment. Of course, McGuire's Pub, a favorite with travelers and locals alike, is located across the street from HarborWalk Village. This can be a congested area during the busy season.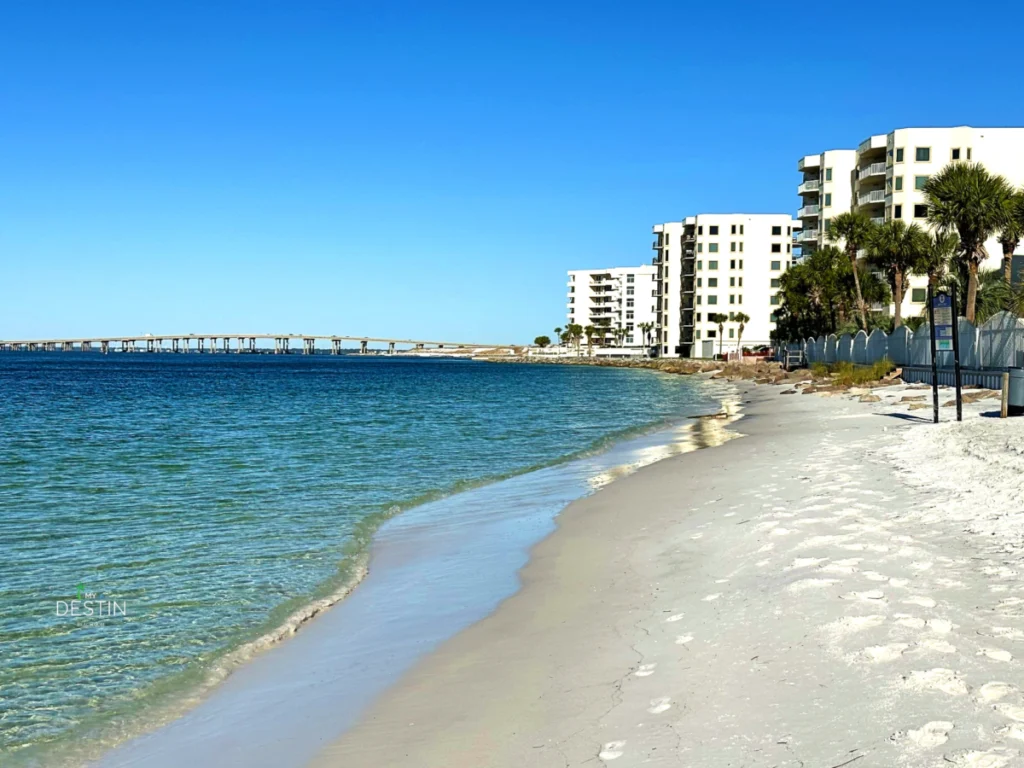 Holiday Isle is just off of Hwy 98 and is a little more secluded than other areas of Destin. It's home to Destin on The Gulf and Sandpiper Cove. Both are low-rise, gated communities.
The beaches in this area are mostly private except for O'Steen Beach and Norriego Point Beach. Both beaches are usually great for younger swimmers, snorkeling, and viewing marine life. Be sure to always check the flags before going into the water. Check water clarity and waves here.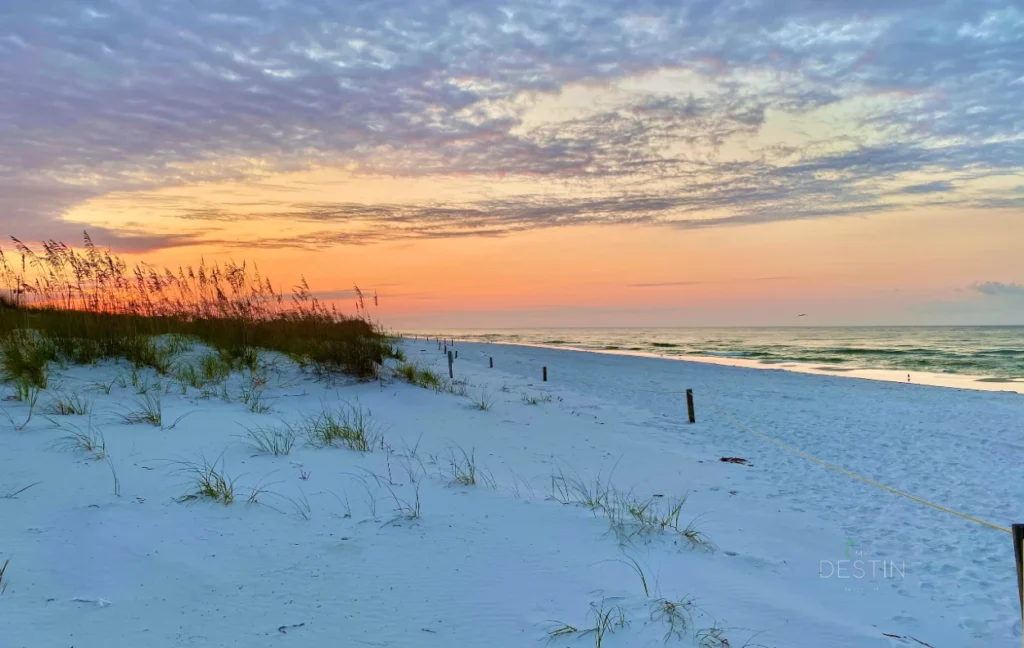 Henderson Beach State Park
Henderson Beach State Park offers 6000 feet of undeveloped beach with full amenities and plenty of parking.
This is the area most people would refer to as the central or main area of Destin. There are several vacation rentals located east and west of Henderson Beach State Park. There are a few hotels across the street from the park entrance on Hwy 98. This is a busy six-lane road with crosswalks. Note that it is a .3 mile walk from Hwy 98 down to the sand. Beach wagons are highly recommended for toting all of your gear to the beach. 
There are several large resorts or vacation rentals in the heart of Destin on Hwy 98 that include Pelican Beach Resort, Jade East, Silver Dunes, and the Sundestin (not to be confused with the Sandestin in Miramar Beach). Learn more >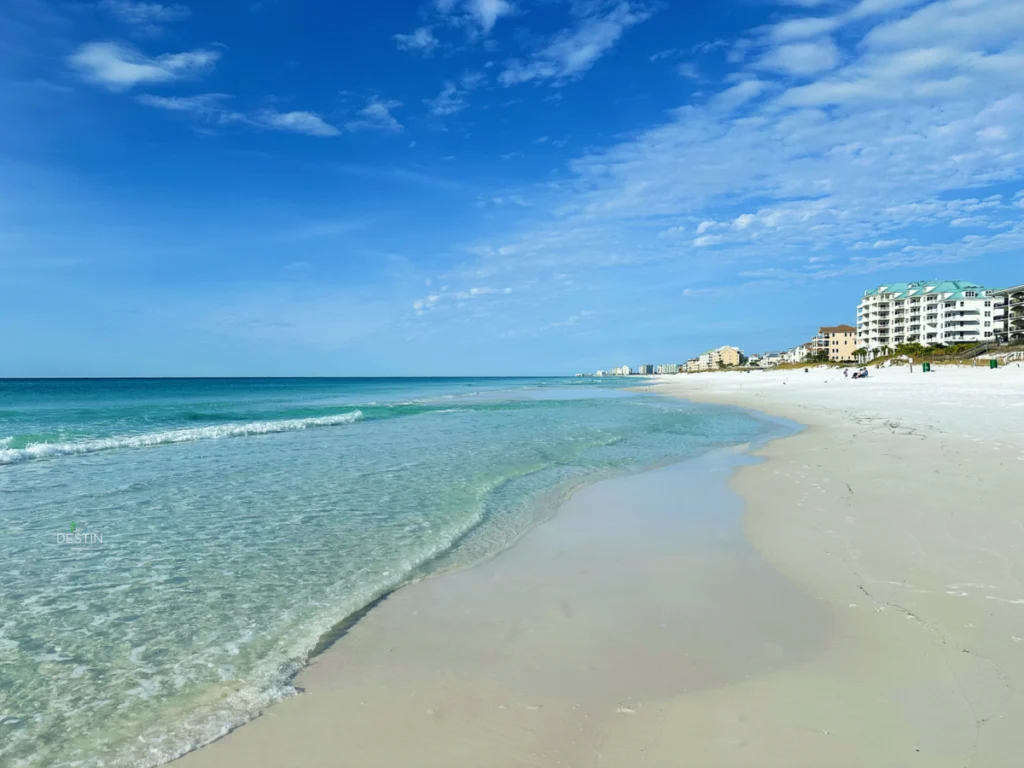 Crystal Beach is one of the most sought-after vacation locations in Okaloosa County.  Scenic 98 curves past a unique blend of adorable beach homes, Crystal Beach, and James Lee Beach Park.  The beach seems to be a little whiter and the water a little brighter here. Maybe just a state of mind; a welcomed one at that. 
Destin Commons is located just north of Crystal Beach. There you'll find several restaurants, boutiques, theaters, and a Bass Pro Shop.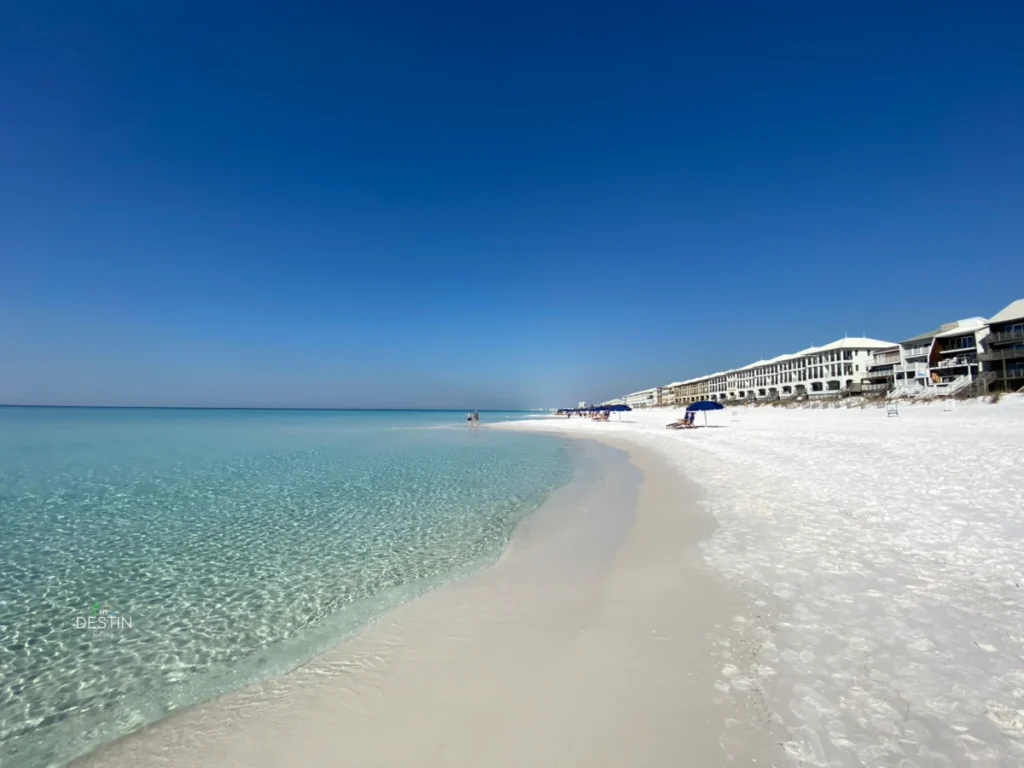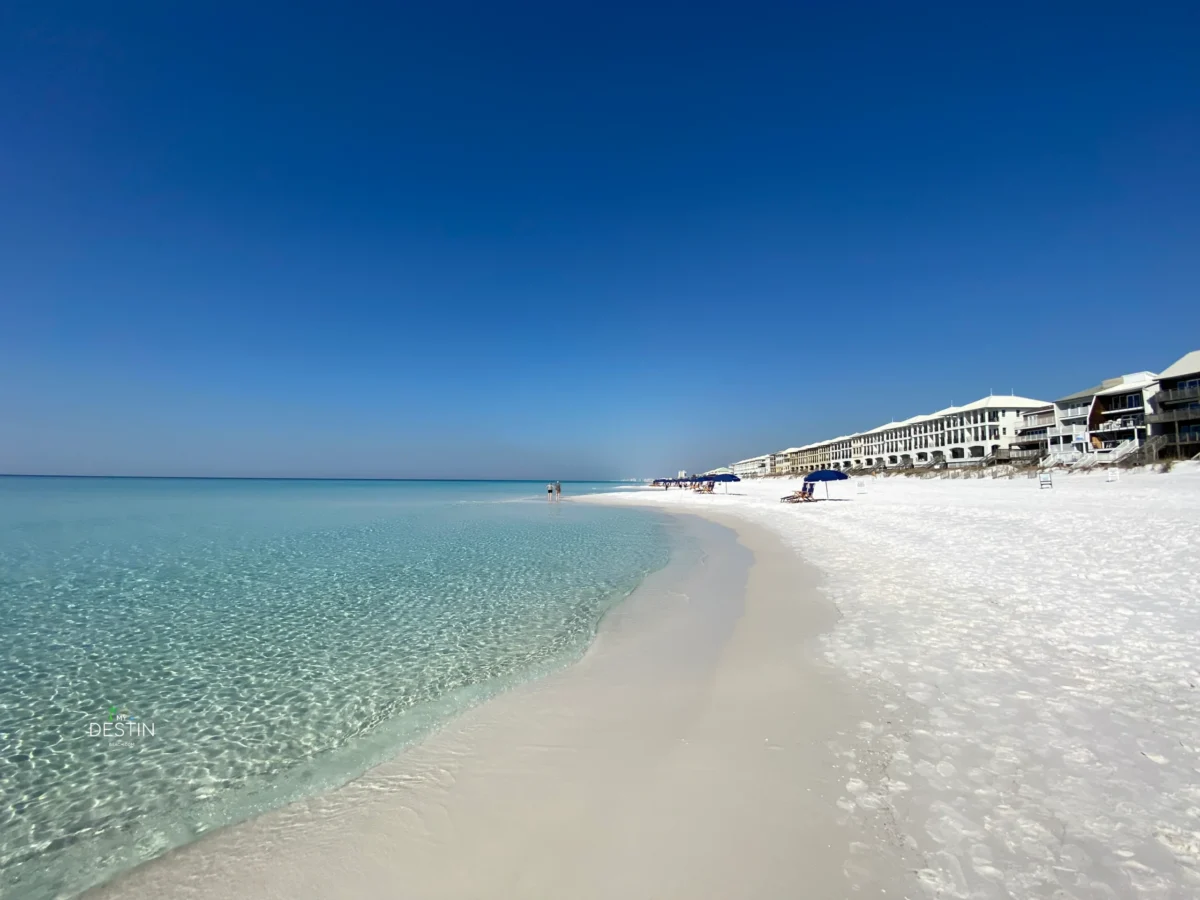 Miramar Beach is a favorite destination for families and those looking to be a little removed from the main action of Destin. You will still have plenty of restaurants and shopping within driving distance but not quite as much traffic as Hwy 98. 
Several of the vacation rentals in Miramar Beach have a small two-lane road to cross to reach the water. The speed limit is low and pedestrians are everywhere. However, if you have kids or older adults traveling with you, you may want to look for something on the sand. 
There are a couple of restaurants on the beach close to Miramar. The Surf Hut and The Crab Trap. Both have fantastic views of the water.
Fort Walton Beach/Okaloosa Island
Fort Walton Beach and Okaloosa Island areas are located five miles west of HarborWalk Village and Destin Harbor where many excursions depart from. You are still close enough to Destin to enjoy all of the activities with a few more hotel options.
There are several family family-friendly resorts and attractions such as parks, museums, and aquariums. This area is a great spot for the whole family.
The Boardwalk on Okaloosa Island is the hub for several restaurants, shops, and entertainment, with an abundance of parking.
If you are looking specifically for a beachfront hotel, Okaloosa Island has more options than Destin. See rates >