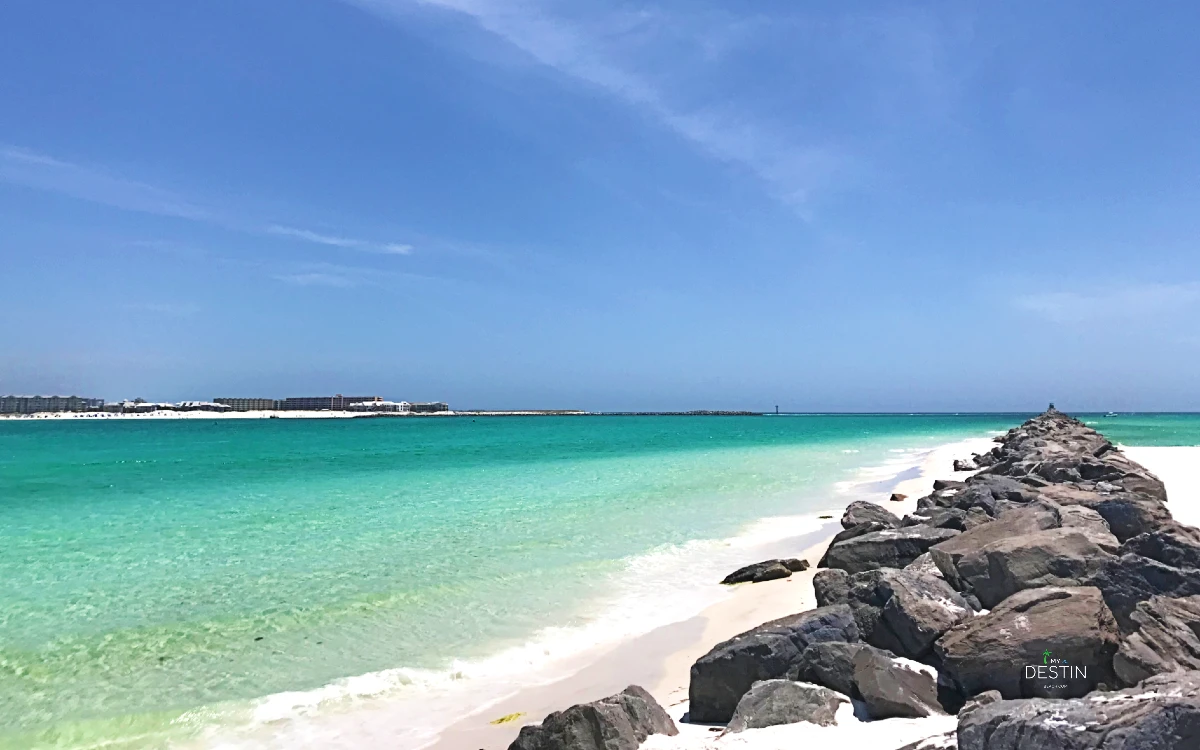 Ten Tips for First-Time Visitors to Destin
Here are the top 10 things to know before planning your visit to Destin, Florida:
Weather and Climate: Destin has a subtropical climate with hot, humid summers and mild winters. Summers can be crowded, while spring and fall offer pleasant weather and fewer crowds. May and October are our favorite months. Keep in mind hurricane season typically runs from June to November. It's best to purchase trip insurance if you plan to go during this time.
Beach Safety: Familiarize yourself with beach safety guidelines, such as flag systems indicating water conditions, rip currents, and the importance of wearing sunscreen and staying hydrated. Check

here

for daily beach flag updates during the summer.
Accommodations: Book your accommodations well in advance, especially during peak season, as Destin is a popular vacation destination. There are various options available, including beachfront

resorts, hotels

,

vacation rentals

, and

campgrounds

.
Local Transportation: Consider renting a car as Destin and its attractions are spread out. Having a vehicle will give you flexibility and make it easier to explore the area.
Dolphin Cruises: Taking a

dolphin cruise

is a popular activity in Destin. Plan to book your dolphin tour in advance, as they tend to fill up quickly, especially during busy periods.
Fishing Charters: If you're interested in fishing, Destin is renowned for its deep-sea fishing opportunities. Research and book a

fishing charter

in advance to secure your spot.
Dining: Destin offers a wide range of dining options, especially seafood. Don't miss the opportunity to try fresh Gulf seafood at local restaurants. Be sure to make reservations during peak times. (Insider tip: Marina Cafe' offers two for the price of one entree from 5:00-6:00 pm. Reservations required).
Beach Gear: Pack essentials for a beach vacation, including sunscreen, hats, beach towels, and beach chairs. While some rental properties provide beach gear, it's always helpful to have your own. Umbrella rentals start around $40/day for one umbrella and two chairs. Walmart is a great option if you want to buy them when you get here and then give them away or dispose of them before you leave.
Recreation and Activities: Apart from the beach, Destin offers other

recreational activities

like golfing, snorkeling, jet skiing, paddleboarding, and exploring nature parks. Rent a

pontoon boat

, or ride a

Tiki boat

to Crab Island. Research and plan activities that interest you in advance.

Local Regulations: Stay informed about local rules and regulations, including beach rules, fishing licenses, boating requirements, and any specific guidelines for the areas you plan to visit.
Remember to check for any updates or changes to local guidelines, attractions, and services before your trip. This will help ensure a smooth and enjoyable visit to Destin, Florida.