A day at the beach should be filled with plenty of fun, sunshine, adventure, and relaxation. The public beaches are watched over by county lifeguards; all lifeguards are academy trained to the advanced level of the United States Lifesaving Association's open water standard. They are also medically trained as first responders in accordance with the USDOT & NREMT standard curriculum. While the lifeguards are always ready to assist in an emergency situation, there are many precautions you can take to ensure a safe day on the Emerald Coast.
It is essential to know these simple beach rules and flag warning systems before your day on the sugar-white sand.
Flag Warning System:
Pay close attention to the flag warning system. Even if the sky is sunny and the winds gentle, currents and surf could pose dangers. Avoid swimming when red flags are flying and remember knee deep is too deep when yellow flags are posted.
Green indicates low hazard and means calm conditions, but swimmers should exercise caution.
Yellow indicates medium hazard and means moderate surf and/or currents.
Red indicates high hazard and means high surf and/or currents.
An additional red flag means the water is closed to the public.
Purple indicates dangerous marine life.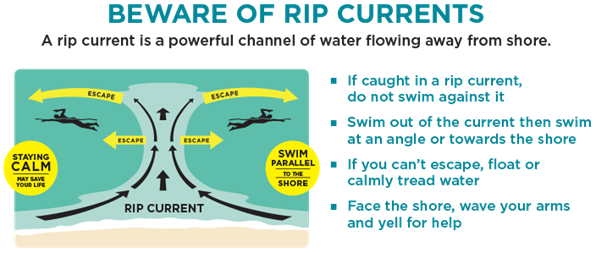 Rip currents are formed when water rushes out in a narrow path, like rivers through the surf. Often mistakenly called undertows, these powerful currents pull even experienced swimmers away from shore, but not under the water. Rip currents may form in breaks in near shore sandbars. They are rarely more than 30 feet wide, but they can extend 1,000 feet offshore, reach 100 feet in width and travel up to 3 mph. Some are present a few hours; others are permanent. Rip currents are more prevalent after storms.
If caught in a rip current do not swim against it. This is a common initial instinct of most people.
Swim out of the current then swim at an angle or toward the shore. Always swim parallel to the shore when attempting to swim out of the rip current.
If you can't escape, float or calmly tread water.
Before you head to the beach, check the tide tables and solunar tables for the Emerald Coast. You can get the forecast for high tides, low tides, hours of maximum fish activity, weather conditions and other useful information at tides4fishing.com.